Tonight when I was catching up on reading the blogs I follow, I got a nice little surprise.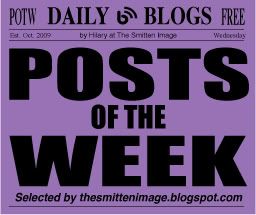 I was over at
The Smitten Image
reading her latest post about her dog Benny, whom I love to hear stories about. Benny is a cute little terrier who is smart as a whip and loves to explore as much as his owner Hilary does. Benny reminds me of Eddie, the dog that belonged to Martin on the TV show Frasier. So entertaining.
Anyway, Hilary has a wonderful photo blog and it's always refreshing when she takes her readers on a walk about. I just enjoy her blog very much.
Hilary also reads a lot of blogs and every week, she considers several blogs as posts of the week.
She reads A LOT of blogs so she's got her work cut out for her.
I was looking at the posts of the week on her blog and there I was.
I made it to her list.
Being one of the posts of the week is quite an honor because there are so many blogs that are much more literate than mine and the writing is superb.
I am honored and delighted to have been one of the chosen.
Thank you Hilary, I really appreciate this honor.